Nissan Financing FAQs
Are you considering financing a car at our Nissan dealership near Slidell? Our experts are ready to help -- both in our showroom and right here online. We've tapped into their expertise to answer frequently asked questions about the Nissan financing process, so you can apply for a car loan with confidence.
Read on to get started!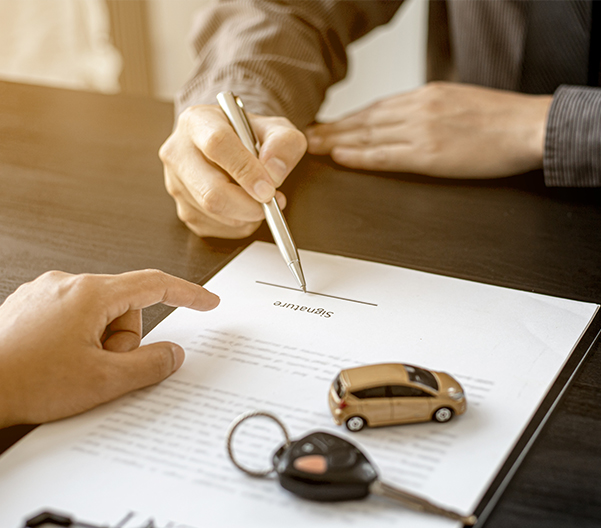 Nissan Financing Expert Q&A
01

What are the current interest rates to buy a car?

Interest rates for car loans can vary depending on the lender, the type of car and the borrower's creditworthiness. As of April 2023, the average interest rate for a new car loan is around 3.5% to 4%, while used car loans typically have slightly higher rates of around 5% to 6%.
02

How do I get a good interest rate?

To get a good interest rate, you can take steps to improve your credit score, shop around and compare rates from different lenders and consider making a larger down payment or opting for a shorter loan term.
03

How much of a down payment do I need to finance a car?

The amount of down payment you need to finance a car can vary depending on the lender and the purchase price of the car. Generally, a down payment of around 10% to 20%of the car's purchase price is recommended to help lower the overall cost of the loan and potentially secure a better interest rate.
04

What additional costs will I be responsible for when buying a new car?

In addition to the purchase price of the car, you may also be responsible for additional costs such as taxes, registration fees and dealership fees. You may also want to consider the cost of insurance, maintenance and fuel when calculating the overall cost of owning a new Nissan in Covington.
05

How can I find the value of my trade-in?

You can find the value of your trade-in by using online valuation tools such as Kelley Blue Book or NADA Guides. These tools consider factors such as the make, model, and condition of your car to provide an estimated trade-in value. You can also use our online trade-in calculator or schedule an in-person appraisal at our local Nissan dealership.
06

Does my credit score impact my loan rate?

Yes, your credit score can have a significant impact on your loan rate. Borrowers with higher credit scores are typically offered lower interest rates, while those with lower credit scores may face higher rates or have difficulty securing financing.
07

I have a low credit score - can I still finance a car?

It may be possible to finance a car with a low credit score, but you may face higher interest rates and stricter lending requirements. To help people of all financial backgrounds afford a new car, we offer Nissan bad credit financing options that we'll be happy to share with you.
08

I don't have a credit history yet - can I still finance a car?

If you don't have a credit history, it may be more difficult to secure financing for a car. Some lenders may require a co-signer or a larger down payment to help mitigate the risk of lending to a borrower without a credit history.
09

What's the best length for a car loan?

The best length for a car loan can vary depending on your financial situation and goals. Generally, shorter loan terms can help you save on interest and pay off the car faster, while longer loan terms can result in lower monthly payments but higher overall interest costs.
10

Can you offer a better interest rate than my pre-approved rate?

It may be possible for us to get you a better interest rate than your pre-approved rate, as we'll help you shop around and compare offers from the different lenders we work with. To get started, apply for Nissan credit online, then let our team handle the rest.
11

Can I reduce my monthly car payments down the road?

Depending on your loan agreement, you may be able to reduce your monthly car payments down the road by refinancing the loan, extending the loan term or negotiating with your lender to modify the terms of the loan. We can discuss Nissan refinancing options when you visit our showroom.
12

Can I sell my car while I'm still paying it off?

Yes, it's possible to sell your car while you're still paying it off. However, you'll need to pay off the remaining balance of the loan before you can transfer ownership of the car to the new owner. Our Nissan finance team can tell you more about this when you stop by.
13

Can I add a warranty when I buy a car?

Yes, you can typically add a warranty when you buy a car. Our sales team can share the different Nissan extended warranty options that can help cover the cost of repairs and maintenance for a certain period of time after the manufacturer's warranty expires. Warranties can offer up to 150,000 miles of coverage and can be purchased during the financing process.
We hope this information helps shed some light on common auto financing questions. To
We hope this information has been helpful as you navigate the car loan process. Want to learn more? Contact Eddie Tourelle's Northpark Nissan if you have any additional questions or need assistance in securing a car loan.