At Eddie Tourelle's Northpark Nissan, we feature a complete automotive service department that delivers the best maintenance and repair for your new or pre-owned Nissan vehicle in the Covington, Slidell, Metairie, and Hammond Northshore areas.
Award-Winning Service
At Northpark Nissan we pride ourselves in delivering quality customer service-every time, all the time. Nissan has recognized our service department with various awards over the years. Our certified mechanics are professionals who take the time to examine and diagnose your vehicle before explaining all the options available to you.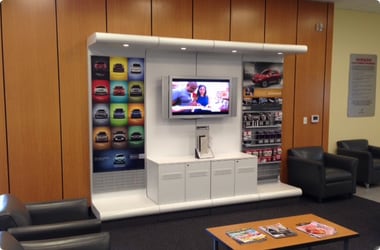 Comfortable and Convenient
You'll appreciate the clean, comfortable service lounge complete with complimentary coffee, large screen TV, and a selection of snacks and soft drinks from the vending area.
Pressure-Free Service
Our drive-up service area is covered to protect you from the weather. Northpark's courteous service personnel greet you at your vehicle and quickly get you signed in for service. Details of your service, pricing, and any additional options are explained thoroughly.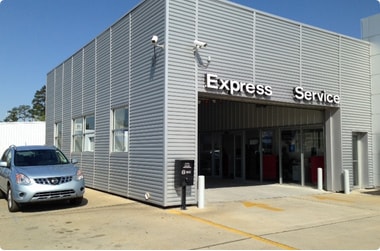 Northpark Nissan works hard every day to deliver the best in customer service to Covington area residents--before, during, and after the sale!
Our Services and Rates
Conventional Oil Change: $32.95
Keep the life-blood of your engine properly maintained and lubricated to help prevent internal damage and keep parts working correctly. Changing engine oil in vehicles has been shown to improve the efficiency of the powertrain and improve performance.
Tire Rotation: $24.95
Extend the life of your tires! Tires need rotation roughly every 5,000 miles, depending on the nature of driving and the vehicle. Without regular rotation, tires on the front wear faster and need replacing before the rear. Swapping the front and rear keeps the wear even across all the tires.
Tire Rotation with Balance: $49.95
Feel like your vehicle isn't riding as smoothly as it used to? Had new tires installed recently and the ride feels 'wobbly' at highway speed? This could be due to poor balancing of the tires. Northpark technicians can diagnose this issue and balance the tires to eliminate performance issues.
Front-End Alignment: $79.95
Is your vehicle pulling to the left or right when you drive in a straight line? This could be due to a misalignment. Over time, bumps and rough surfaces lead to loss of steering precision. Northpark Nissan can correct this issue with an alignment that restores your vehicle's steering accuracy.
New Tires, Mounted, and Balanced: Call for a low price quote!
One of the most important safety features of your vehicle is the tires. Don't wait to replace worn tires. At Northpark Nissan we carry the most popular brands at the best prices for cars, trucks, and SUVs. And it won't cost you and arm or a leg. Call (866) 831-9146 and our friendly tire pros will match you with the perfect set!
Come by Eddie Tourelle's Northpark Nissan any time during our regular service hours or schedule an appointment using our online service request form.